» Latest Photos

He'll come after her...

User

Flint
» Latest Files

EXCLUSIVE FIRST LOOK AT THE 2017 CORPS COLLECTION

User

samsallspark

Paypal donations
- by Hammerfel On Jun 03, 2013 - 6:08 PM
Hi all,

I have added a Paypal donations button to the site.

Last year, I left my job of 11 years with Sony to co-found a social gaming startup. That didn't work out, and I have been unemployed since December 1st. The job hunt has been tough. I nearly landed a great job at Warner Bros, but that dept had a hiring freeze right before they could get me onboard. I've flown to SF and Seattle on interviews and have a local interview in the morning. I even had a phone interview today with Amazon Games.

Anyway, we've had no income since November, and as you can imagine, money is tight. I will always keep my pledge to keep JD up as an archive for all Diorama photography, but I could use your help doing so.

If you can donate, please do! I will try to work out a special status icon for people who have donated recently to display next to their username, if you like.

[Read More]


2 Replies | 16,472 Views

The Terrordrome's Awesome "Famous Art Dio Contest"!
- by Hammerfel On Jan 20, 2011 - 9:15 PM
My good friend Joshdahl has started a very unique Dio contest at The Terrordrome!
And he has honored me by inviting me to be a guest judge.


"The idea is to recreate a famous piece of art, but using Joes and Cobras. For example: Michelangelo's "God Creating Adam", but with Croc Master as God and Duke as Adam or "The Starry Night" by Van Gogh using the Terror Drome with Flight Pods & Fangs flying around. The possibilities aren't endless, but they are there and can be quite creative. And that is what we want to see."

read the full thread here:
http://www.theterrordrome.com/forum...p?f=174&t=10587

and enter! JoeDios members entering will strengthen the relationship between our two awesome sites, so go forth and PWN! [Read More]


51 Replies | 58,401 Views

Hasbro's GI Joe Renegades Q&A
- by Hammerfel On Jan 18, 2011 - 1:12 PM
Quote:
Hello G.I. Joe Fans! Hasbro shares the fans' excitement for this first season of G.I. Joe Renegades and we're sure you have some great questions that you've been dying to ask since the show's debut this past November. Well, now is your chance! Hasbro is offering you an opportunity to participate in a special bonus round of our G.I. Joe Q&A in which the team at The Hub and Hasbro Studios behind the hit G.I. Joe Renegades show will answer your questions! Please submit one (1) question by Friday, January 21 at 3:00 PM. The team's responses will be returned by February 7. Looking forward to getting your questions, and have a great weekend! YO JOE!
[Read More]


18 Replies | 24,394 Views

JoeDios.com Hasbro Q&A
- by Hammerfel On Oct 24, 2010 - 8:04 PM
Hasbro required a fast turn around on these questions, so I wrote these myself. Thankfully, we didn't get a lot of "not planned" answers, which are code for "no".



JoeDios Question: We at the JoeDios.com crew are really enjoying the diorama fold out back drops in the recent packaging. Do you plan to continue that feature?

Hasbro Answer: We currently plan on developing the dioramas.

JoeDios Question: Many of the most recent figures come with far more accessories than the figure can hold at once, which we Diorama creators LOVE. The latest Zartan and Stormshadow come to mind. Will you be continuing this trend?

Hasbro Answer: We're so happy that you like it. We have been working hard to provide great value and play with our figures and will continue to try... [Read More]


6 Replies | 20,661 Views

Help me make more JoeDios Logo Variations!
- by Hammerfel On Jul 24, 2010 - 12:34 PM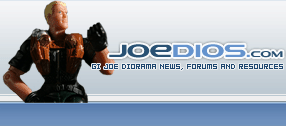 So poor Duke has been stuck up at the top of the page for a while now, and Rambo suggested it may be time for a change.
I'm going to add some JavaScript that changes the logo every day, but I need your help making LOTS of variations! Don't just make characters, either. Vehicles will work, too.

Do your best, but please don't be offended if I don't use your image. Since it's up there with the logo, I'm going to be pretty picky about what we add.

Specifics in the next post.


46 Replies | 48,041 Views

New HISS Tanks on the way from HASBRO, in BLACK!
- by Hammerfel On Jul 23, 2010 - 7:06 PM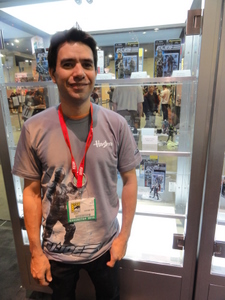 I was talking to Hasbro Design Manager, John Warden at Comic-con on Preview night, and we had a great, long talk. One of the things he asked me to pass on to the Joe Community is that he has been watching the reaction to the color of the current HISS tank and wanted to assure us all that future releases of that mold will come in classic BLACK(and I would guess other colors as well). He was eager to get the word out, so spread it far and wide!

He also clarified the dual purpose of the hidden compartment in the back. It could be used as a gunner station, or as a place to restrain Joes captured on the field of battle.

He further described that the windowless canopy was to address the fact that glass-cockpit tanks aren't all that tough (a frequently raised point about the fragility of an original HISS tank on a real battlefield). He described that idea is that the inside of the... [Read More]


14 Replies | 29,094 Views
Powered by: vBulletin Version 3.0.6
Copyright ©2000 - 2017, Jelsoft Enterprises Ltd.
Style Design By:
vBStyles.com